The world-renowned cooks and kitchen chefs will be part of the Fourth International Gastronomic Competition – "Gastro Mac", which will be held from 10th to 14th October 2019 in Ohrid. This continental gastronomic event is organized by the National Association of cooks and kitchen chefs from the Republic of Northern Macedonia, supported by the Ministry of Culture and the Municipality of Ohrid.
Mayor of Ohrid Mr. Konstantin Georgeski believes that hospitality is an extremely important segment about providing complete tourist product; therefore Ohrid as leading tourist center in our country should be a leader regarding modernization of the entire gastronomic offer.
– Gastronomy is a science in which the art and food combination are essential, food specialties are reflection of the local living culture. Consequently, in accordance with the contemporary world trends in culinary of particular importance is the enrichment the restaurant menus with unique products, as well as the organization of a series of promotional events that aim to present this region food and local specialties.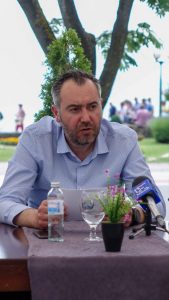 On our pleasure during the last few years, thanks to the top Macedonian cooks and kitchen chefs, the owners of catering facilities started to understand the importance of the promotion of our local authentic specialties, which are a real enjoyment about the gourmets and lovers of good food. What is more, nowadays most of the restaurants have put into service lots of modern elements within the process of cooking and serving the food, which is of particular importance regarding the pleasure increasing  of tourists and foreign guests, said Georgeski.
In His opinion, the International Gastronomic Competition "Gastro Mac" will significantly contribute to promotion of the gastronomic offer as well as, will support using of many modern food preparation techniques, which are already practiced by the most famous chefs in the world.
During this year's edition of "Gastro Mac" will be attended 50 world judges and masterclass lecturers, who will be led by top world chef Stevo Karapandza. The event has so far reported about 400 participants from 35 countries.